St Edmund's student becomes CUBC Men's Vice President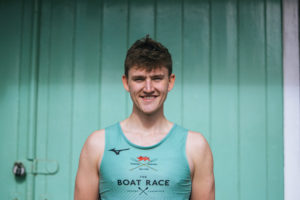 Hello! My name is James Bernard and I am a second-year mature student studying Land Economy. I am also the CUBC Men's Vice President in my second year trialing with the club. Despite the uncertainty in today's world, I am excited to be starting another term at St Edmund's and grateful that all the squads have been able to commence another Boat Race campaign.
Before arriving to St Edmund's, I attended the University of Wisconsin-Madison where I graduated in 2018 with a degree in International Studies. During my time at Wisconsin I rowed for all 4 years making the men's varsity in my 3rd and 4th year. I also won the Big Ten conference's Distinguished Scholar Award in both those years. In 2017, I was selected to represent the US at the U23 world championships in Bulgaria where I rowed in the men's eight, taking 4th overall. After taking a year off rowing and school to work at a government relations firm, I was ready to get back to the books and back in the boat!
I had a great first year here in Cambridge despite the sour end brought on by the pandemic. I was fortunate to live in the brand-new Mount Pleasant Halls and couldn't have asked for a better place to live in my first year getting to be close to College and making some great friends in my hall. The fall went by quickly and before I knew it winter was upon us and training for the Boat Race was kicking into high gear. During it all I was able to rely on my friends and on the College to help me navigate my studies and life in Cambridge. Thanks to the strong relationship between St Edmund's and the CUBC I was lucky enough make several special connections throughout the year. Whether that was the chance to meet several Eddies alumni when the club traveled to America to race last fall, or the chance to meet and chat with the College's former Master Paul Luzio, I was certainly grateful to be a member of the College and a trialist with the team.
In early March, I was selected to row in 7 seat of the Blue Boat. Unfortunately, as we all know, the world took a turn and, just two weeks before we were meant to race, the Boat Race was cancelled. While we were absolutely gutted we of course understood the circumstances. I would have loved to represent St Edmund's in the 2020 Boat Race but I hope to have the opportunity again this year.
I am looking forward to taking on my new role as Vice President and helping to lead to the club as we navigate the challenges of training through a pandemic and, on a more positive note, start this new chapter with both men's and women's squads united as one Cambridge University Boat Club.